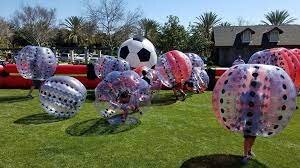 Up to 10 Knockerballs Event Package (2 hr rental)




$350.00

Please call to reserve this item.

Get in the ball with this fantastic Knockerball party package!
We bring up to 10 knockerballs, games, and all our accessories for a knockin' good time! Our friendly staff will then give you two hours of fantastic games, activities, competitions, and more. We keep the fun rolling... as well as your guests! Whether it be classic games such as tag or capture the flag, or our soccer set-up complete with goals and 3 different sizes of soccer balls (regular, 2/5', and a HUGE 6' choice!), our staff will ensure not only a safe, but an unforgettable experience!
Ask about about our Rockin' Knockin' Music add-on too!